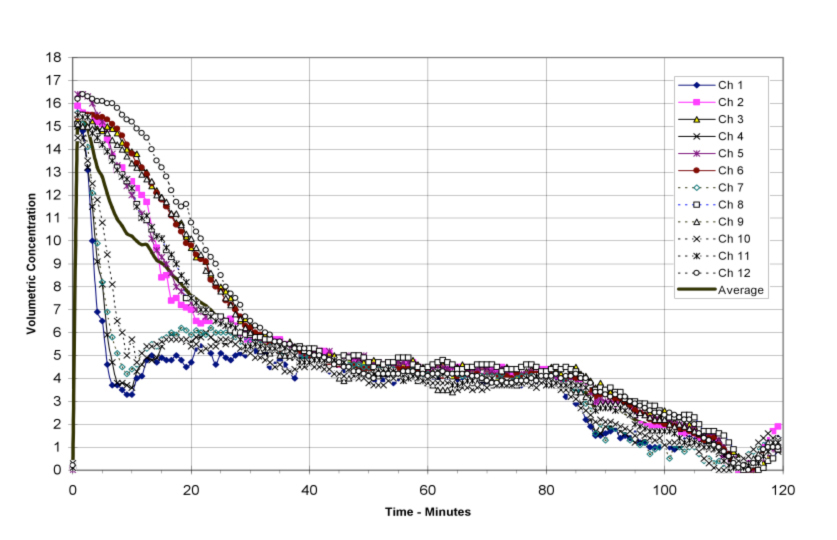 An actual AAE Certification test showing concentration of extinguishing agent remaining above 3% everywhere in the compartment until plane is landed, parked, and evaluated.
AAE designs, certifies, and builds aircraft cargo fire protection systems (FPS) kits and parts for the Transport Category aircraft aftermarket. Currently thousands of these Transports are used worldwide for passenger or cargo operations without benefit of cargo fire protection, with only cargo smoke detection, or with only short duration fire suppression.
For example, Transports with Class D cargo compartments currently carry no fire extinguishing or fire/smoke detection system in their large cargo compartments. Similarly, Transports with Class E compartments have only fire/smoke detection in their compartments.
None of these unequipped/underequipped planes in the aftermarket are alike because many factors – including their systems, equipment, fuel capacity, instrumentation, controls, and routes flown – make each uniquely different.
AAE's experience configuring and installing more than 312 design configurations for cargo fire protection systems around the world makes us the best choice to meet the needs of adding or improving cargo fire protection to your fleet.
Evaluation of the Operating Rules, related to fire protection systems, are under active review by authorities around the world. Future changes are being discussed requiring higher levels of safety for both passenger and cargo operations. Our design configurations are already recognized and approved worldwide by the Civil Aviation Authorities (CAA) responsible for issuing operating certificates to the owners and operators of Transport Aircraft, including EASA, FAA, and the CAAs of many countries such as China, Australia, Argentina, Brazil, Sweden, and Switzerland. In fact, AAE can obtain design approval certification for its fire protection systems from any country.
The AAE design configurations are approved by FAA and Foreign CAA validated Supplemental Type Certificates (STCs), and we build complete turn-key kits and supply approved parts, under our FAA Parts Manufacturing Approvals (PMAs), for use by customers worldwide.
AAE's existing cargo fire protection system designs include Transports manufactured by Boeing, McDonnell-Douglas, Lockheed, Airbus, Fokker, and many others. AAE's fire protection system designs can be adapted to any Transport aircraft.
Contact AAE for Cargo Fire Protection System Design and Kits You Need!